Heads up: all past and future Catalog stories now live on our own blog, Liner Notes. Teleport there for new stories and updates. To sign up for our newsletter, add your email here. Thanks for reading 💽
Sampha started his artist path an intern.
Before transfixing us with his immortal voice, before the collaborations with Drake and Kendrick and Solange and Frank, he was making tea at the record label he'd one day sign to. Sampha released his debut album eight years later. Much of the time between was spent outside the public eye. Bereavement, collaborations with family, lots of sessions, and — an increasing rarity — patient A&R. Tea time turned into beats. Beats started to feature his own vocals. Features led to a body of work. One person's face on the cover, an entire history behind its creation.
Music can isolate. Even a full studio sometimes feels lonely. The dog-eat-dog nature of the world we've inherited can infect us — rabid individualism tainting our hearts as we do what we can to survive and prosper. But no matter how talented the artist, or how limitless the success story, there's a supporting cast 10x the size of a Tarantino Anderson ensemble. Nothing happens in vacuum. Whether we're tracing the endless ripples and offshoots of electronic music to give credit where it's due, celebrating each other's journeys in person, or keeping context alive through thoughtful music writing, a life worth living is one that doesn't restrict us to our own lanes.
Stay safe x inspired,
Catalog

No sleep 'til Brooklyn. After a long winter of internet hibernation, we're dancing back out into the physical realm alongside our friends. Join us in New York during NFTNYC week for B2B, a 2-nite music experience on April 12 & 13, presented by Songcamp and Catalog, powered by 0xSplits:
April 12 → Songcamp presents CLUB CHAOS at Public Records. DJ sets by: CHAOS (KarmaVioletta), Dot, Pozibelle, Rowan Spencer. 9pm - 1am

April 13  → Catalog presents CONVERGENCE at National Sawdust: DJ sets by: HEDS (Sober Rob + Deffie + Oshi), QRTR, BRUX, & our very own Athena Yasaman. 8pm - 12am
Bundles granting access to both shows are sold out, but individual show tickets are available for $10 each while supplies last. Both shows are 21+. Bring your White Label maté and your mates for superspeakers, big smiles, and a run of DJ sets that'll dart across the sonic spectrum.
Back online, we explored decades of musical terrain in our new episode of On The Record, "Electronic's Infinite Past, Present, Future," which jumped from Detroit to Casablanca to LA to Mumbai to Rio to Berlin to the Netherlands with a stacked speaker list. Listen to oral history on our Twitter Space talk show here.
In the spirit of catalogging, archiving, and contextualizing music, we're doubling down on our efforts to bring the blog era back. Tell your writer friends (or yourself!) that they can submit long-form editorial pitches for stories they'd like to write. We'll publish (and compensate) accepted pitches on our Mirror page. Editorial program details here.
Last but never least: Ethereum hit its six-month anniversary as a PoS network, which reduced its energy usage and estimated emissions by more than 99%.

Calling all cratediggers: bless your ears with Hidden Gems — uncollected records on Catalog. Special shoutouts to the prideful, restorative funk of Black Shesus' "SheHerMamaGod"; Dessy Di Lauro's piano-propelled love letter to Black women all over, "Strength Of A Woman"; the synthwork glittering across moneylang's "Xmas Flip 2"; and Taifa's emotional hydrant release, "Dark Web" 🔂
We're not the only ones who love to spread love. The parade of Hidden Gems: Cosigns continued this month with special guests spotlighting special records. Mark Redito, Upper Reality, Aly (fka Lackhoney), Serboy, Pat Junior, Matthew Chaim, Goodnight Cody, Gavin Gamboa, and Mark de Clive Lowe all came through to put on for other artists 🫡 Click their names to hear their cosigns.

We're thrilled to announce that Curation Cycle 4 has begun 🎆 Welcome aboard, comrades 🫡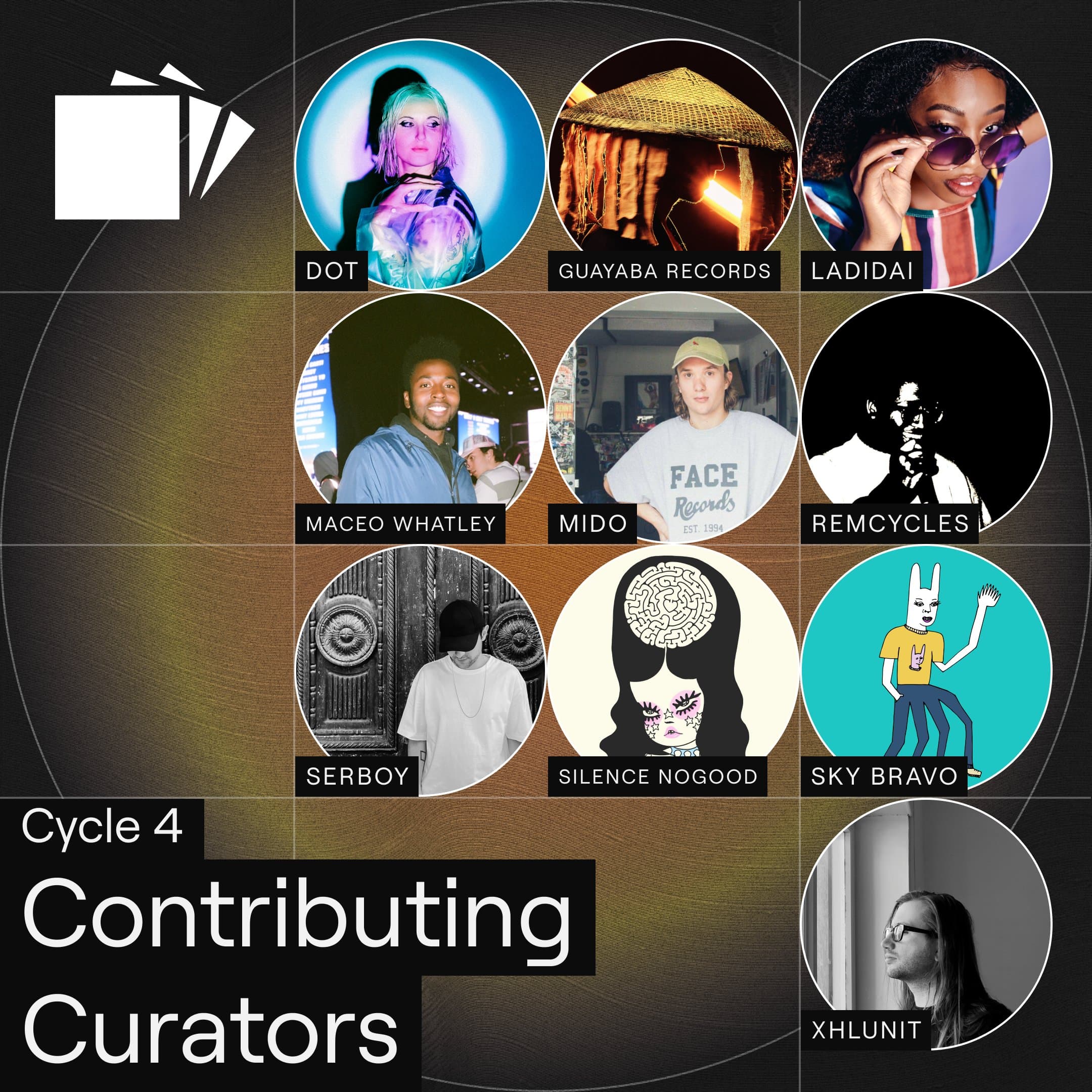 Read this and this to learn why we believe Curation Cycles are important in nurturing a representative web3 music soundtrack.

April 12: B2B Nite #1 - Songcamp presents CLUB CHAOS at Public Records in Brooklyn, NY (Get tickets)

April 13: B2B Nite #2 - Catalog presents CONVERGENCE at National Sawdust in Brooklyn, NY (Get tickets)

May 4: Cook Off 010 ft. Athena Yasaman Listening Party (Samples and details in our Discord)

Everyday: Stay hydrated and keep fighting the good fight