Heads up: all past and future Catalog stories (including this one) now live on our own blog, Liner Notes. Teleport for new stories and updates. Thanks for reading 💽
We stood like Tetris blocks around the oud.
80+ of us, panini'd up, crunched into a prayer circle by the adorned walls of a collectively owned East London hideaway. No one seemed bothered by their personal space bubbles popping upon entry. As if an elusive magic revealed itself in moments of shared air, tight quarters, autoimmune risk, and zero tolerance policies for sus conduct and corporate alcohol logos.
Behind the crowd: a tiny bazaar, featuring Arabic texts and apparel popups. Handmade keffiyeh rested beside the Tripoli skyline — Libya's rooftops embroidered into fabric custom cut by Medina. At our center: Kareem Samara, freestyling through a half-hour shoegaze-esque solo set that paired electronic foot pedals with maqams played on history's oldest string instrument. Our ears bent like periscopes to catch every finger twist.
Earlier in the night, Etaf (عِطاف) held court, commanding the same group focus with hear-it-to-believe-it melismas. A natural star without a song out; Shazam might break a sweat here, but you didn't need the app to know that much.
At the end of it all, as applause for the performers flickered, Abdu, the event organizer, revved us back up to an ovation, praising the all-women sound team who kept this makeshift venue cochlea compliant. His words gave that night its parting gift. One that enriched "artist" to include the patchworked contributions driving the face and name that tip music's spear. An act of altruistic unbundling, revealing the talents behind the talent. An act of anti-scale. This basic idea — credit — offers a window through which we can peer into the Overton trap facing "music discovery."
Attribution "at scale" introduces "complexities" to a business.
Credit where credit's due on a music platform means more information, more layers, more interlinks, more breakable code. This threatens to turn "users" into flight risks and flip product managers' panic switches. All this stuff — a constellation of database relationships and legal frameworks and collaboration — roars in the face of tech's religious attachment to "simplicity." Spotify took 12 years to display song credits, which remain, a half-decade later, dead ends on the UI. Apple's desktop app has the same buried metadata fields its used since early iTunes. An iPhone-funded streaming rate doesn't change the fact that no credits exist on Apple Music's mobile app.
We know this industry is a trillion-tentacled squid with an army of lawyers on its back. Building a functional, secure platform of any size takes 56 Nights⁷ level effort. But these widespread design negligences leave awareness and resources on the table. Anonymity reduces opportunity. Posting about a new album on Instagram and tagging the producers helps, but it can't compensate.
One of the most thrilling parts of cratedigging, that treasure hunt rush, ironically reflects one of music's most enduring flaws: a pattern of obfuscation as old as combing through vinyl liner notes and as omnipresent as today's context-stripped streaming and smart speaker landscape. The current architecture for exploring song credits fails the talents behind the talent, "at scale."
Design errors plaguing attribution in music are, in effect, by design. Tech's pursuit of "simplicity" brings with it the burden of "scalability." These two words, so often thought of as interchangeable prerequisites (if you want to scale, you need to be simple; if you are simple, you have a chance to scale), infected each other. Most people might not count song credits as a must-have to use or subscribe to a music platform. This lets builders punt credit system improvements down their priority lists with an air of objective truth. As if the characteristics of a "minimum viable product" exist independent of values and principles. A plane with a pilot won't leave the runway if no one can find (let alone pay) the attendants, grounds crew, and baggage personnel.
The compromised state of credit in music — bare minimum for a healthy ecosystem — illuminates a similar problem facing "music discovery," and directly prevents new modes of discovery (e.g. browsing and learning about music through "influence maps," a feature many of us have dreamed of since forever). How can we expect anything built at scale to prioritize what doesn't matter to the typical user?
In a February episode of the Twitter Space talk show On The Record, MIDiA researcher and analyst Tati Cirisano noted that a supermajority (85%) of listeners in a 9000-person survey felt satisfied with available market options to find music. In that same survey, just 10% strongly disagreed with the statement that they most often listen to music they already know. In other words, we can assume that a maximum of 10% of listeners are the type to search for and support new music.
The data emphasized what many of us already sensed for a long time: most people are more interested in mood accessorizing than Moodymann merch. It's this segment that feeds the beast in a pro rata model. Here lies the land of Pandora jazz stations, nostalgia junkies and the algorithm-appeased. Pop-leaning major label stars cut their checks off this swath. Hipgnosis Fund and Epidemic Sound reap their ROI.
Cratedigging is, in techspeak, an edge case. The more money a listener spends, the rarer it gets. Any record in the world has a demand curve that drops off a cliff after moving past $0.00 on the x-axis. Hopeful solutions to improve music discovery have to get comfortable in that less populated flatline (anti-scale), with fewer people and higher willingness to pay, or radically alter what a low-cost music environment looks like, how it distributes attention, and the ways in which it facilitates material support. How might we achieve such a complicated aim? Let's first take a nuanced look at the platforms in power.


Algorithms are not, by default, agents of evil.
~100,000,000 songs and trillions of uploads on socials all but demand hyperspeed sorting mechanisms.
TikTok, teetering on the edge of U.S. banishment (while many artists posting sped-up remixes teeter on the edge of sanity), at least seems to use its attention levers in more egalitarian fashion than other superapps. Put another way, the influencers of Instagram didn't copy and paste their power; new names were and are gaining traction that none of us knew about before. (Whether that's well-intentioned or a habit-forming red pill, we may never know. Lottery tickets keep buyers hunting for the jackpot by doling out small cash prizes.)
Over at the Big Green Machine, Discover Weekly solidified itself as a crowd favorite years ago. Their infamous "DJ" feature may have no business replacing sacred car soundtracks with friends, let alone a live set at dweller festival, but if you want to ask your phone for a playlist of 20 tracks you've never heard across nine genres with a BPM of 160, you won't have to wait very long. And that's fine. The issue isn't the algorithm, for once, but its limits, the economic realities defining it, and the goals of its architects. (An algorithm on Bandcamp would likely have different motives than a DSP's.)
Among the powerful headwinds preventing a better discovery system: a cultural addiction, reinforced by the design of most music platforms, to the number "one." When we organize an ecosystem around a top spot (chart position, monthly listeners, etc.), we ensure a rat race for the crown, all while DSP business models mandate a race to royalty-payout rock bottom. This dynamic limits the ability to support more artists and concentrates attention in damaging ways.
Take The Weeknd, who has 112,000,000 monthly listeners on Spotify as of this writing. #1 in the world. #1 ever. Still insufficient. So The Weeknd receives more marketing dollars, more editorial support, more algorithmic geysers lifting him higher and higher. At once a symptom of and case study for unchecked scalability. The question is not whether The Weeknd deserves this treatment (I'd personally prefer him over Ed Sheeran, the previous record holder), but whether listeners really need help finding his music at this point. A platform can't put "discovery" first when it must simultaneously placate the juggernauts and angle for novel ways to devalue music as an art form. (This dilemma may have peaked during the infamous Drake takeover of Spotify for his 2018 album, Scorpion, which plastered his face on every playlist cover. Not even a heartbroken rap&b fan in 2011 needed that much Aubrey Graham.)
Meanwhile, over at Meta, plans are in motion to double the amount of AI-recommended "material" on Facebook and Instagram by the end of this year. Meta's recommendations have a reputation for inciting hatred. Imagine if their system instead considered, as one input vector, the income bracket or wealth of an artist when determining whether to boost their post? This component could favor artists with less financial security (e.g. +/- 15% of the poverty line). If colleges and universities can provide need-based scholarship, it's not farfetched to imagine need-based algorithmic support. Implementation is a another story.
Much like better credit systems, more robust discovery initiatives aren't important enough to enough people for a company operating at multinational scale to prioritize their development. And even if algorithms knew to slot rare Slum Village records into personal mixes on Dilla Day, backtrack Rosalia's Motomami into its Afro-Carribean source material, or detect and push incredible songs with no "data," the outputs would still slide into the same contextless rows and columns of DSP design land. (Fun fact: 38 million tracks received zero plays last year.) That's what you get at the crossroads of simplicity and scalability: unimaginative ground for a good chunk of the world's music to live and die in glorified spreadsheets.
Spotify, Apple Music, and TikTok play such an outsized role in artists' fates that reformist efforts do matter. It goes without saying that any % change in any major platform's average royalty rate affects the quality of life for 10s of 1000s of artists. That pay-to-play promotional scheme that Spotify tripled down on this year warrants protest. (On the marketing page for Spotify's discovery program, they fail to disclose that it involves artist participants accepting even lower royalty rates.) If DSPs stopped pumping superstar stats ad nauseam and started rerouting the ears and eyes they bring to lesser known, independent acts, as a headliner might for an opener, we'd already be in a better place. Ditto if DSPs introduced pay-what-you-want billing, with their current subscription prices serving as a floor. Reserving (and raising) a minimum number of spots on editorial playlists for unsigned or independent artists — metadata reliably available to Spotify, provided via distributors — wouldn't hurt. Spreading more love to lesser-known acts wouldn't make much of a difference to the experience of "lean-back" listeners anyway. The ongoing collective efforts of UMAW are as important as the real-time struggles that BandCamp Union are currently fighting against.
However flawed the platform titans are in their present form, I'm not convinced the rising number of well-intentioned DSP abstainers have it figured out, either. Buying a record via Bandcamp, Catalog, or direct-from-artist paid downloads (which Ka and others support via their personal websites) is best if you can afford it, but streaming those same songs on Apple Music or Tidal (which pay the most per play on average) helps out music makers more than playing our own downloads. It takes mixed action to endure a mixed bag. Whatever we do, we can't look to platforms with infinite ambitions as saviors.They're designed to leave the 10% unsatisified. Finding paths to alternate realities starts in the present, by defining what we, the minority, want out of music discovery.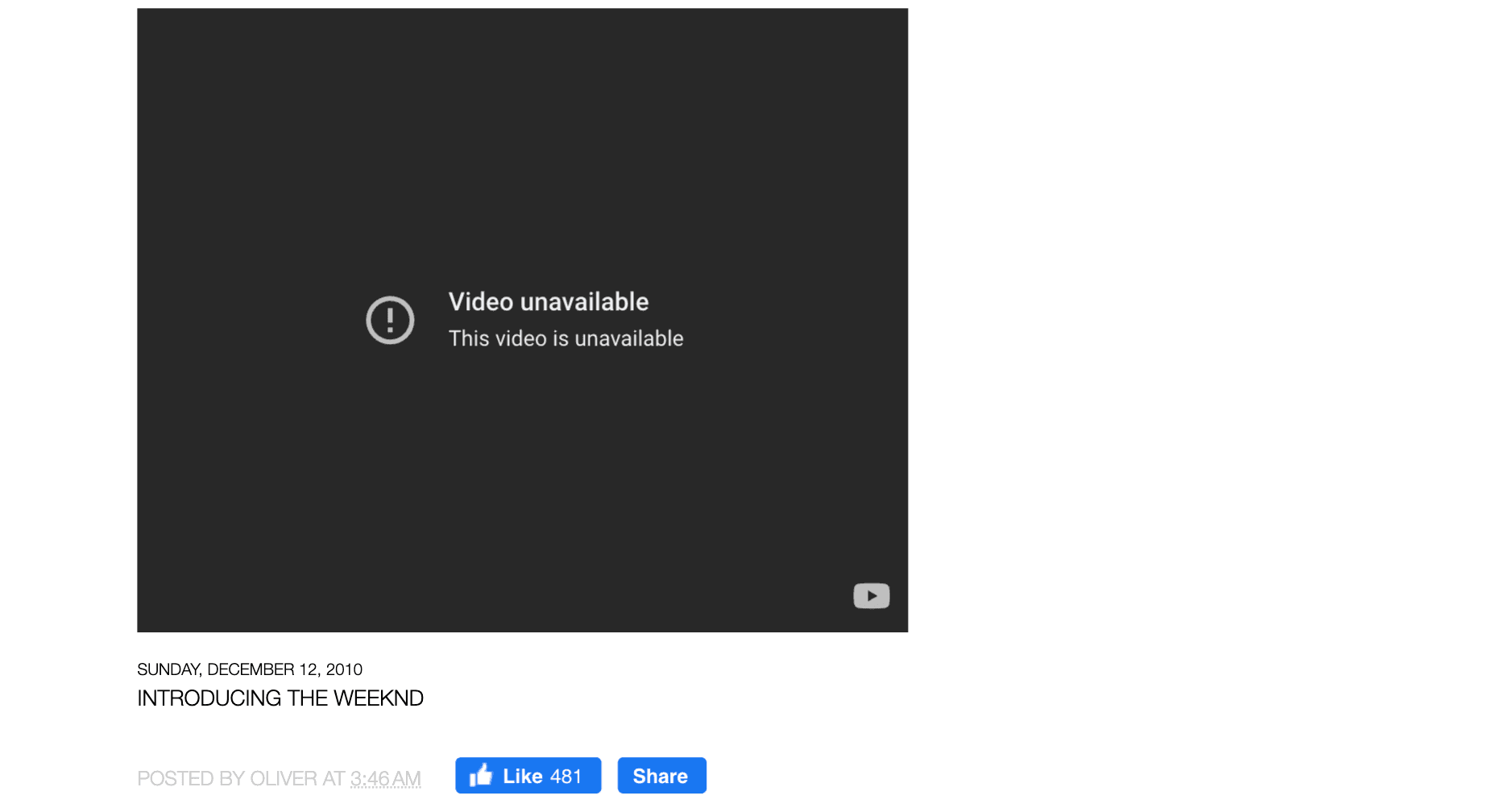 So what the $%#& is music discovery?
It's not a trick question. Discovery is an Overton Window, restlessly shifting. Using the Weeknd again as an example, we can outline a partial spectrum of discovery scenarios.
2007-ish: Abel Tesfaye discovers his own natural penchant for singing and starts recording

2009: A sophomore at Abel Tesfaye's high school hears a rough demo by The Noise, a pre-Weeknd alias

2010: Abel Tesfaye and producer Illangelo have their first session and create "Crew Love," which Drake would end up using for his 2011 album Take Care

2010: A Drake fan, up late in Memphis, sees a 4am OVO blog post featuring two YouTube embeds — songs from someone named The Weeknd

2011: Friends of Ricardo Valdez Valentine Jr. — who would go on to record music as 6LACK after maneuvering out of a deal he signed that same year with Flo Rida — see his tweet about House of Balloons and download The Weeknd's debut mixtape off DatPiff

2011: An early fan of The Weeknd drags their uninterested friend to his first show, at Mod Club in Toronto; the friend likes the set and buys a t-shirt

2013: A student in Tokyo hears her classmates poking fun at The Weeknd's new album, Kiss Land, for its anime obsessions; undeterred, she buys the CD and can't get "Wanderlust" out of her head

2015: A middle-aged couple watch softcore porn movie 50 Shades of Gray for some excitement; when "Earned It" by Ariana Grande and The Weeknd plays, they Shazam it

2016: A bored teenager shows their mom "Can't Feel My Face" by The Weeknd because they think it's funny the song's about cocaine; their mom doesn't catch the reference and starts listening to it on loop every day at the gym, becoming one of The Weeknd's superfans on Spotify

2017: Two parents in Chile take their child to his first concert: The Weeknd at Lollapalooza South America

2021: A football-obsessed auntie in Oklahoma watches 2021's Super Bowl and sees The Weeknd's half-time show, her first exposure to his music

2022: A 12-year-old who only listens to electronic music comes across OPN's remix of The Weeknd's "Dawn FM" in an Elden Ring gameplay video on YouTube
You might recognize yourself in one of these scenarios, if not a few. All music lovers have knowledge gaps. All humans must ride the circle of life. I was 16 when The Weeknd released House of Balloons in 2011. Plenty of my fellow '94 babies have had kids of their own since then. Mortgage, sick parents, 9-to-5, the works. It's unusual for aging to not interrupt someone's appetite for music discovery, or warp the ways in which it occurs. Even the method of release matters. A traditional rollout from The Weeknd in his prime is one thing. An unpromoted 'secret' mixtape that he scatters across the internet, as Earl Sweatshirt and the Alchemist mythically did, is another. Whichever way it's presented, the idea that a major label superstar is still "discoverable" might make some eyes roll, but it's important to call out. This helps us define what we really mean when we talk discovery. All discovery methods are valid, but not all are equally impactful.
When artists have the least security, that's when every individual supporter matters most. The difference between 10 fans and 100 fans for a nascent career means the world. It's a sign to keep going. The Weeknd wouldn't even perceive 90 fewer fans in the stands of an arena concert. The same holds true on the flip side. Some artists are scorned at first and only appreciated after they've passed. Others fade with time if they're not kept alive. No one's immune. Why would anyone born in 2030 know a thing about FKA twigs and Frank Ocean, or Lauryn Hill and Prince, or Hook  and MIKE, if concrete efforts aren't made to soundtrack their adolescence with that music? Parents, elders, and older siblings can only do so much.
As majors invest more and more in marketing legacy hits and gargantuan funds continue gobbling up the rights to past and present records, future opportunities for the independent artists we cherish today may prove impenetrable tomorrow. Ultimately, what's discoverable = what's recorded. If you haven't noticed, the internet is evaporating. Every few years, we lose, or flirt with losing, a significant collection of music dependent on privatized servers to remain accessible. MySpace, Vine, SoundCloud, DatPiff, etc. Decentralized digital archiving is as essential as ever. I've become a screenshot hoarder because I don't trust that fascinating design or significant digital moments will survive otherwise in the long run.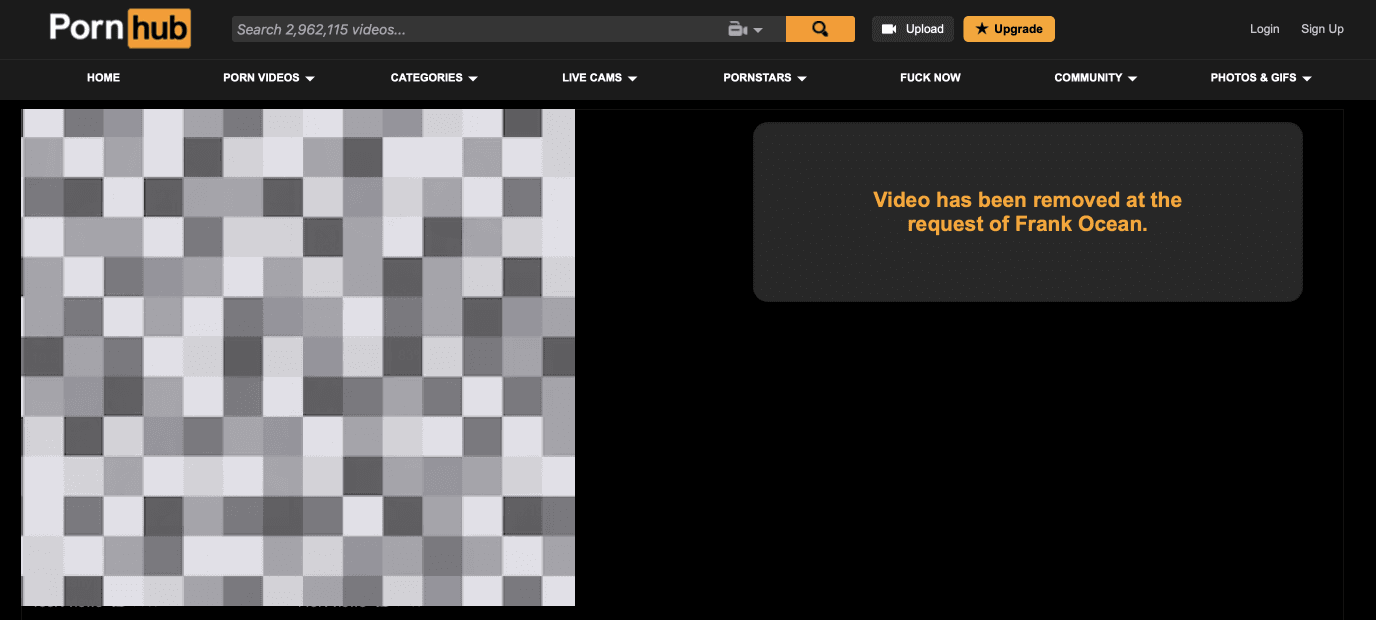 "Discovery" must also take an artists' origins, context, and career path into account.
Bad Bunny, another contender for "biggest" artist in the world, rivals The Weeknd's status. By some metrics, such as gross tour revenue, he's the clear global breadwinner. Unlike The Weeknd, Bad Bunny achieved this without major label backing, from his colonized, unrepresented home of Puerto Rico, singing letras en español. That context makes his achievements admirable, but at what point does "independent" start to ring hollow when applied to his story? Eventually, even someone as unafraid as Bad Bunny benefits from the same attention-concentrating algorithms, editorial choices, and traditional gatekeepers (hi Jimmy Fallon) he first circumvented.
In a recent cover story for TIME, Bad Bunny said this: "'There's a lot of things that I'm losing, like opportunities, 'cause the language. I didn't care about [learning] English. But now, I think I care.'" So goes the pursuit of #1. This isn't his fault. I'd prefer Bad Bunny over Ed Sheeran, too. He's playing the game and surfing impossible pressures, but that doesn't make it right. Artistry at scale all but forces assimilation toward the world's dominant economies and the "cultures" entangled therein.
Take K-pop stars, who deserve celebration for (1) scoring Billboard hits without English and (2) the profound, positive influence they've had on millions of fans. BTS has to work harder, in theory, than The Weeknd, who has to work harder, in theory, than Ed Sheeran. We can take that into account while also noting that you're part of the attention dilemma once you're a superstar. Within Korea, BTS goes from glass ceiling-shattering former long shot to years-long untouchable titan. It's all relative, but one thing's for certain: When organizations in other countries take the major label 360 deal model and dial it up a few notches, underdog narratives need to come with an asterisk.
"Discovery" can also dress up cultural ignorance: try telling someone in Beirut that you discovered Fairouz. It's never a bad thing to learn about someone, but when we call an artist "new," we have to ask ourselves, new to who? There's also the fact that some artists don't care to be "discovered" by everyone. Noname's resistance to majority-white audiences showing up to watch her perform definitively Black music offers one stateside example.
It's tricky and divisive to try and pin down who to prioritize in a better discovery system, but we have to try. Ideally, everyone would have their basic needs met, and no one would need to operate from a place of do-or-die survival. That said, in a scarce, limited world, we have to make choices. The beneficiaries of discovery who require the most tender love and care, among others, might include:
Unsigned artists, especially those living in financial duress

Independent artists, especially those living in financial duress

Artists who come from / identify with overexploited backgrounds and want support

Artists who come from / identify with the global south or periphery and want support

Artists who are working class or impoverished and want support

Artists signed to major labels who've been barred from releasing music

Music makers who've been repeatedly sampled but never properly acknowledged or compensated

OGs who released legendary work with predatory labels and now struggle to afford health insurance

OGs who released legendary work, regardless of label, at risk of being forgotten by newer generations

Music that doesn't exist on DSPs, or anywhere else on the internet

Music that is daring, unusual, distinct, uninterested in trends, innovative, etc.

Music from underappreciated, gifted artists who've passed (Terr9r, Jarrod Milton, Jefe Replay)

First and foremost: incredible music that deserves more eyes and ears (unless said music already benefits from 10s of millions of eyes and ears)
This (subjective) list could go on and on. If we (fans, builders, writers, artists, etc.) can identify and agree on the groups that need "discovery" most, particularly within our own physical and digital communities, we can take more targeted, collective actions toward a future that better supports them (and each other).
Even cratediggers, held up as paragon (I'm guilty of this), contribute to the discovery dilemma. "Superfans" and "cratediggers" are often thought of as one in the same. That's not always the case. Cratediggers are often the most curious of the bunch. They (we) bounce around, diving down rabbit hole after rabbit hole, rarely pausing for extended lengths of time on one artist or album, even if we love it. A cratedigger is the sort of person to say they're "late" to something because the song hit 1,000 plays on SoundCloud. A cratedigger might stream a track five times, send it to 10 friends, then move on. That can be a valuable act, but distinct from a superfan, who might stream that song enough to generate the same revenue as a download, then buy a shirt. Breadth versus depth. One of music's nightmare tales concerns cratediggers. Gregory Coleman, drummer behind the "Amen" break, died homeless in 2016, unpaid from his genre-spawning cut sampled over 2000 times. In a world of rent and landlords and tattered social safety nets, discovery and discovery alone can mean, at once, everything and nothing at all.
Thankfully, software at scale has made it easier to pay people in music. Coleman deserved the peer-to-peer instant payments, digital secondary markets, open-sourced royalty splitters, and direct-deposit-friendly web2 distribution we take for granted today. These tools are essential in closing the gap between discovery and support. They also facilitate financial alliances. In real life, eons of austerity, another global conservative power shift, pandemic closures, and a forever recession endanger all but the most resilient corners of independent night life and artistry. These conditions place impossible pressures on any stones still poking above the lava for artists to jump across.
Pay-to-post Instagram A&Rs will never deter us from making trails out of songs featured in close friends' stories. Underpass raves aren't letting up. Pirate-minded stations, from The Lot Radio to Radio Alhara to Seoul Community Radio to Refuge, continue elevating music makers who deserve more ears. NTS' still got it. The dying art of symbiotic editorial has a home in dweller's blog, No Bells, Azeema, New Currency, Passion of the Weiss, Zora Zine, and Bandcamp Daily — miraculously, after Epic's purchase. Indie labels as varied as Tratratrax, ONNO Collective, In Real Life, UMAY, Leaving, xquisite, BLTNM, NAAFI, Topshelf, Dion Dia & the How Bazaar are all operating in the same era — a gift for our ears, and an opportunity for networked solidarity. Right now, a Telegram chat can become a haven for unimaginable mixes and music recommendations. Archival efforts, from Reference Point's mini library in London to Nishant Mittal's Digging In India to nostalgia trips through hip-hop history with Andrew Barber, help preserve and educate and pass down what needs to be. What matters most is for these scattered voices to form an interdependent chorus of anti-scale efforts. Localized nodes that have each others backs. A blog roll with an emergency fund. Let's narrow the gap. To all those already fighting the good fight, thank you.