Heads up: all past and future Catalog stories now live on our own blog, Liner Notes. Teleport there for new stories and updates. To sign up for our newsletter, add your email here. Thanks for reading 💽
We're 16.6% of the way through 2023, everybody. Life's BPM: 9,000+
Last time you heard from us, we celebrated the new year with 50 hidden gems to soundtrack the coming months — a spellbinding, globetrotting group of records in search of their 1st collector. (Listen while you read.)
We're back with our minds now zeroing in on the broader state of rabbit holing and cratedigging. The internet — in its most primitive search bar form — promises everything, everywhere, all at once, as long as your tabs can keep up. While that pledge tends to hold, it comes with about 10,000 asterisks attached that we're all varying levels of infuriated by. The physical realm, what with its wars and earthquakes and hollowed cities and boy's club of anti-art governments, could use a musical boost.
Nonetheless, cause for optimism abounds, and cultural resilience is, as always, proving itself inextinguishable. Whether you're collecting 1-of-1s with us, raving in São Paolo, buying on Bandcamp, or going to a show (maybe three) this week, keep fighting the good fight.

"Imagine The Sopranos, but Tony can actually tell his therapist what's going on."
That's Heno., speaking about his fictional PTSD support group, in our latest artist profile to hit Mirror. The DMV-raised rapper-producer sidestepped small talk to discuss recidivism, Ethiopian coffee rituals, true community, recording through panic attacks, and finding strength in grief. He's got an action-packed 2023, with all releases directing funds to social works projects. Read Heno.'s story.
At first glance, this Heno. piece might look like an endangered species long-form editorial. Zooming out, it's a discovery mechanism, one little glimmer in an infinity of pathways to find and fall in love with music. In hopes of diagnosing the health of these cratedigging modes, we brought back our Twitter Space talk show, On The Record, for a special segment: Does Music Discovery Need Saving?
Stream the episode here, featuring commentary from Songcamp's Mark Redito, Sound's David Greenstein, MIDiA's Tatiana Cirisano, the inimitable Black Dave, and many more galaxy brainers. Feel free to email back with your thoughts :)
In closing: Ethereum hit its five-month anniversary as a PoS network, which reduced its energy usage and estimated emissions by more than 99%.

Nourish your ears with Hidden Gems — uncollected records on Catalog. Special shoutouts to the waterfall saxophones and lush affirmations of Charm Taylor's "Green Acres"; Noah Pred's metaphysical club odyssey, "Suspended Animation"; the supernatural Moog transmissions elasticizing EL.FUGUE's "Somewhere In Morocco"; and VITA's Neptunes-rock stomper, "DRIVE" 🔂
This month, we also introduced a new socials series, Hidden Gems: Cosigns. Here's how it works: Special guests pick three uncollected records they love by three other artists, plus a record of their own if they'd like to share. Give flowers, spread love. We've kicked things off with selects from Memphis trailblazer Jon Waltz, frequency surfer Sound of Fractures, iconic R&B glider Iman Europe, & sonic explorer Gavin Gamboa.

Curation Cycle 3 is off to the races. Welcome aboard, comrades 🫡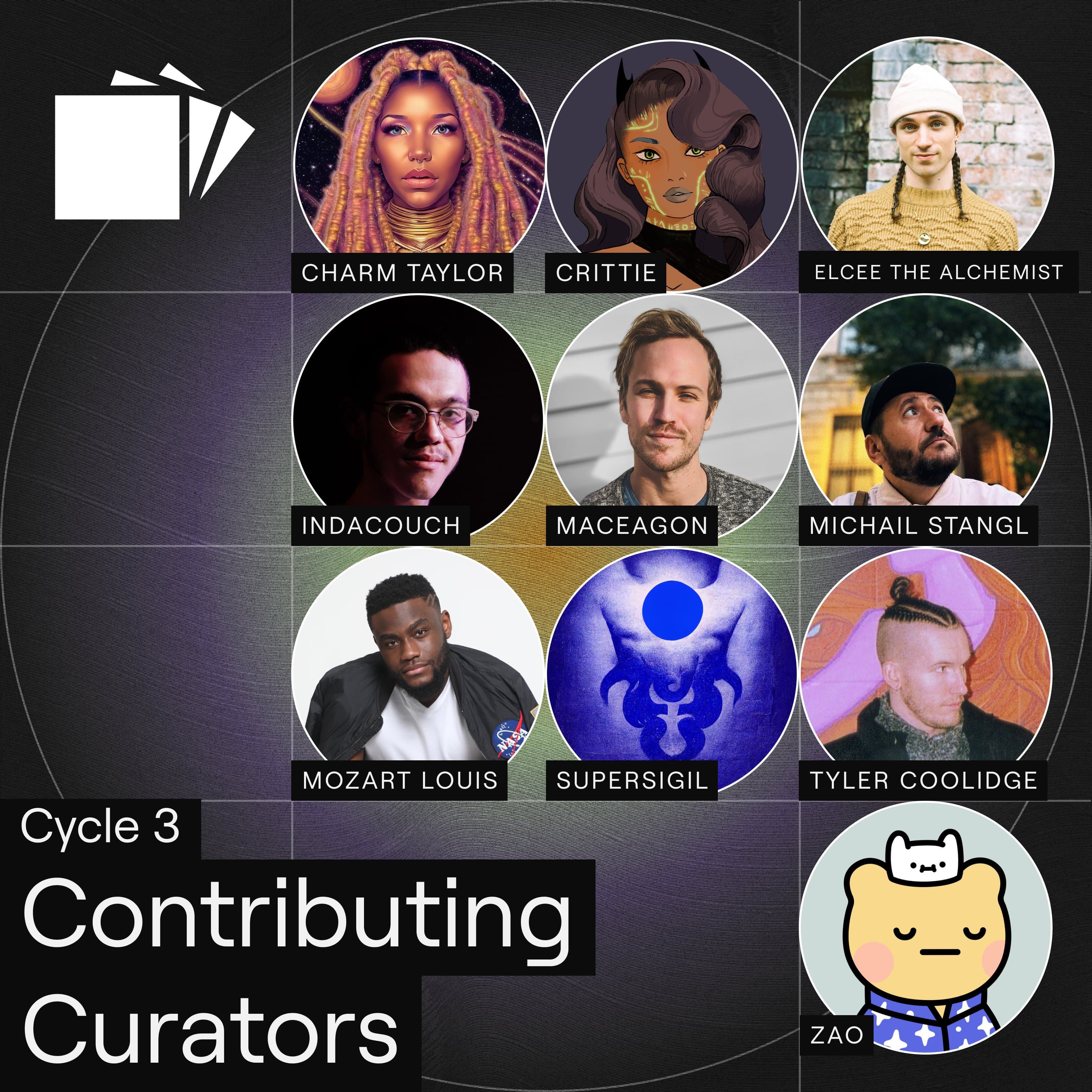 In recent months, we've worked with folks immersed in different music communities to onboard and celebrate independent artists they love to Catalog, ranging from baile funk's new wave in Brazil to mahraganat-channeling electronic from Egypt, alternative in Zambia to artists putting on for the stateside South.
Read this and this to learn why we believe Curation Cycles are important in nurturing a representative web3 music soundtrack.

Mar 2: Cook Off 008 ft. Dutchyyy sample flips due and listening party open to all in our Discord

Mar 3: Cook Off 009 ft TBD announced

Mar 5: A/V Sundays 002 — an educational community screening of Jungle Fever, an iconic BBC documentary about the rise of Jungle music in the UK, originally aired in 1994. Discord RSVP.

Mar 13: Cycle 4 contributing curators announcement

Mar 22: Electronic's Infinite Past, Present, Future (Twitter Space). RSVP.

Everyday: Wish a loved one or stranger or DAW session good morning